LARGE PANEL SYSTEMS
KS-CH-LP

SYSTEM PARTS

A

HEX NUTS+BOLTS & SLEEVE ANCHORS
KS-FSTN + KS-SL

B

VERTICAL CHANNEL MOUNT
CH-MNT

C

VERTICAL CHANNEL
CH-VER
D
LOCK NUT
CH-LKT
E
HORIZONTAL CHANNEL
CH-HOR
F
HOR.CHANNEL EXTENSION CONNECTOR
CH-CNC-H
G
VER.CHANNEL EXTENSION CONNECTOR
CH-CNC-V
H
STONE MOUNTING CLIP
CH-CLP
I
UNDERCUT ANCHOR
CH-ZYC
J
STONE PANEL

K

UNDERCUT STONE HOLE
Salient Features

1
Quick and Easy Installation.

2
Tolerance Adjustments in 3 Axes.

3
More Suitable for LARGER Sizes of Stone Panels.

4
More Applicable for Weak, Hollow & even Basic Buliding Skeletons.

5
Cost Effective compared to other conventional Channel System.

6
Installation Speed Efficiency x3 Times,Compared to Conventional Cladding System.

7
Durability ~ Powder coated for Anti corrosive & Die Electric Seperation.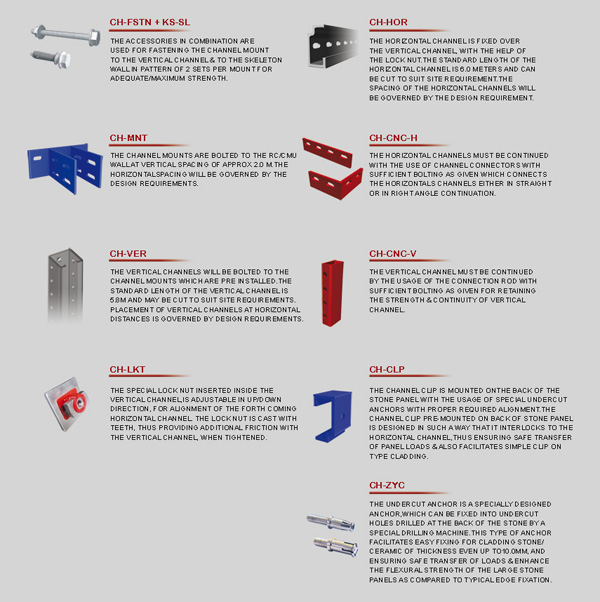 Special Notes:
-

Items B,C,D,E,F,G,H are made of High Tensile Aluminum, Grade 6061-T6.


-

All Aluminum Parts are Powder coated, for di-electric separation.


-

Each system part is checked for its adequacy for the safe transfer of loads,
as per the prevailing International Design Codes


-

Items A,I are made of Stainless Steel Grade 304 or 316 Material as required.

Bimetallic Corrosion at Fixings
Bimetallic (galvanic) corrosion may occur when dissimilar metal parts are in electrical contact in a common electrolyte- (e.g. rain, condensation etc.). This corrosion can be prevented by isolating the metals from each other. K-STEEL recommends a 300 micr